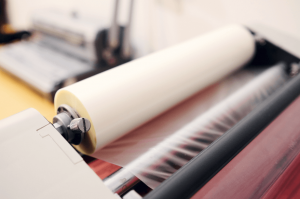 One of the most important things to remember with lamination services is to respect the items you are working on. We regularly have the task of laminating things like posters and photographs. Many of these are irreplaceable. As a result, we must get everything right the first time around. We work hard to do just that and have a wide array of laminates to cater for various needs.
The thing about the colour palettes is that you will always find yourself answering the ultimate design question. This is whether to go with gloss or matte. Depending on your application and style of decor, HD gloss laminates or matte might be more appropriate. You might not be certain whether it is a good idea to buy glossy laminates though. If so, then read on to see what we have to say on the matter.
More depth for smaller spaces
Different forms of laminate can work more efficiently to obtain the look you want. This depends on your design vision. Extremely shiny gloss laminates are wonderful tools for introducing style to contemporary rooms. Furthermore, HD gloss laminates are capable of adding depth to those compact spaces. This is due to their light-reflecting characteristics. In turn, this is going to make them seem more open and spacious.
Several projects will be able to benefit from lamination services that use these laminates. Wardrobe makeovers and kitchen renovations are good examples. However, the possibilities are endless.
Limitless advantages
With these designs, the advantages are limitless too. For one thing, the maintenance is very easy to handle. Shiny and sleek glossy laminates are very smooth. You can wipe these down in a few seconds. In addition, the laminates have an easier time surviving spills. There is going to be far less staining too. Due to the lack of crevices, germs and dust won't have any hiding spots either. Therefore hygiene won't be a concern with HD gloss laminates.
You can make your rooms seem bigger than they are as well. The glossy laminates can do this by reflecting light. In other words, it is ideal for anyone with smaller spaces. A small bedroom or kitchen can feel far more spacious by merely swapping matte exteriors for shinier ones. To take full advantage of the effect, opt for lighter colours.
Contemporary appeal
Last but not least, there is the contemporary appeal. There is no doubt that a shiny gloss says luxury. Thanks to the reflective capabilities, your spaces shall be as vibrant as possible. HD gloss laminates work particularly well in modern decor. Thanks to the sleek appearance, you will end up with contemporary sophistication.
Rely on our lamination services
At Foiling Services, we help clients achieve the highest quality with every single item. Using our top of the line equipment, we can work on the likes of PVC, HIPS, and MDF. We are capable of much more however.
Call us today if you want to learn more about us and our lamination services. We are always happy to share our knowledge and recommend the right laminate for each job.