Through our suppliers, we have access to many superb luxury foils such as brushed products. The brush structures can be coarse or fine, matt, satin or gloss. These give high quality finishes of gold, silver, copper and aluminium to name but a few. They are metallised or pigmented in construction. This gives the option of vacuum forming components as well as fabrication depending on the foil choice.
Our standard Brushed offering provides products with a brushed structure that you can feel making it luxurious to the touch as well as the eye. Brushed Fine Line contributes a 3d effect sealed within the foil giving an even better resistance to abrasion, chemicals and fingerprints.
Lots of foils to choose from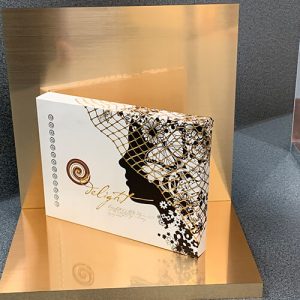 We offer eight finishes from stock, as well as many others that are available upon request. If we cannot find the right finish there is always the option of a making a bespoke foil to your requirements if the project is large enough.
We produce a range of brushed products, including:-
Mirror Silver
Satin Silver* (Also 2nd Surface)
Aluminium (Vacuum formable)
Mirror Gold*
Satin Gold
Euro Gold
Copper
Copper Penny (Exterior quality)
These are manufactured on Gloss HIPS or PETG between 1 and 3mm thick and protected with a PE film or protective tape. Black white or clear 1372x660mm sheets are used. Other Mirrors, colours and thickness are available upon request. *These products can also be foiled at 1000mm wide. Should your project require greater chemical resistance we can incorporate a durable gloss or matt permanent laminate.
Make the right choice for brushed products
We manufacture these products to order, using either your own sheet free issued to us, or our sheet if you require the complete item.
Please call 01684 575655 for a quote. We can also answer any queries you may have regarding our work. So, reach out to Foiling Services and we would love to work with you.