Metallics on Vinyl
We also produce Metallic Finishes foiled on to Self Adhesive Vinyl rolls.
As standard we use Mactac vinyls and finish it with our mirror, brushed, holographic, printed or exterior products.
The most popular finish is Rose Gold, Luxor 355.  All our finishes can be over laminated with gloss or matt to give the finish for your required look.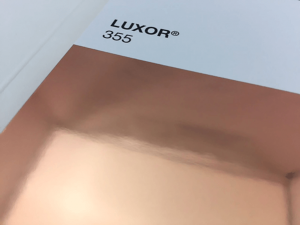 We manufacture these products to order, by the roll, 45 metres x 610mm wide. Whilst we do 610mm widths as standard, larger widths and lengths are available.
Please call 01684 575655 for a quote or use our contact form.