Lamination services are beneficial but they require skilful hands to do properly. Our team has been specialising in this field for many years now. As a result, they have the potential to produce some stellar results. They also know when a situation may require alternatives if laminating is not the best option.
Knowledge of lamination will aid you in achieving the greatest results. Pouch laminators are increasing in popularity. They are cost effective to obtain. However, that does not mean they will guarantee a good finish. It will take care and attention to get it right.
The edges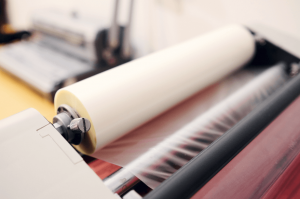 One issue people struggle with is the laminating pouches coming apart at the edges. A document can come out of a machine and the pouch might not have been entirely sealed. When this happens, there was not sufficient laminate around your object. Normally, this is due to your document being too big for the pouch. Alternatively, you may not have put the document in your pouch straight.
What you need to do is fully open the pouch and ensure that you butt up the document to the top of the sealed end. Lay it down flat and see whether there is an even laminate around the edge. Doing so should guarantee a sealed pouch.
Bubbles or cloudiness
The document might have air bubbles too or it may be cloudy instead. For those who experience this, it normally means the temperature is not high enough. This leads to the pouch's adhesive not heating correctly. This is an easy fix. All you need is to turn up the temperature a little. Then, run the pouch through your machine an additional time. For the top lamination services in the country, get in touch with us.
Spot the spots
It could be that you have spots all over your laminated document. At times, glue deposits are able to accumulate on the rollers. You will have to clean them at some stage. It is easy enough to do this yourself. In addition to kits, there is the option to use a cloth and a small amount of white spirit. Anyone not comfortable with this can always opt for professional cleaning.
Is the pouch the issue?
When you reach the end, your pouches may still not look good despite efforts to make them so. You may have inserted the document correctly as well as having the correct temperature set. In this scenario, you will need to look at the actual pouches. The pouch could be of a low quality or the wrong size. If so, you will need to change it.
We deliver quality lamination services
At Foiling Services, we believe that it is important to provide a first class level of quality with our work. Something that is equally vital however is offering a suitable degree of customer service.
Whenever you have a query, we go out of our way to help with it. So, if you desire our lamination services, please contact our company for info. We can help you to select the right service.