These days, it is harder to find someone who does not know about the benefits of foiling. To obtain the best result however, you need to find experts who you can trust. We have been specialising in foiling services ourselves for many years. Therefore, you can count on us to match all of your specifications.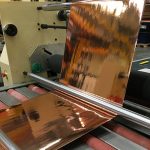 Special effects printing is a good choice if you want to introduce a degree of luxury to a business, greeting, or save a date card. Examples of this include foil and spot UV printing. In order to add some special detailing to the prints, it is a requirement to supply your artwork in a particular format. This is because of the machinery and process necessary to add effects like areas of spot varnish or foil to printed materials.
What is spot UV printing?
For those who are unaware, spot UV is the term that is used for introducing varnishes to certain parts of printed documentation. This includes text and logos. You do this to produce a slightly raised and shiny effect. Usually, you would apply varnishes to the entire page to obtain a matt or shiny finish.
When you employ varnish for spot UV though, you use an extra plate to overprint it on the necessary areas of your design. The UV is referring to the ultraviolet exposure necessary to dry the varnish coating rapidly. This produces the shining effect.
When you use it creatively, spot UV printing can offer your prints texture and depth. It is used commonly on business cards. Introducing the spot UV over the top section of image components like a snake skin or bubbles can produce potent but unforeseen textures.
The foil printing size
Then, there is foil printing. Another term we have for it is foil stamping or blocking. This is the process of introducing a thin coat of pigmented or metallic foil to paper stock. You do this using a combination of brass or magnesium dies, and heat. You will need a decent level of pressure too. Speak to us if you require top tier foiling services.
Foil is an opaque medium too. Due to this fact, the colour is not going to change when you apply it over a dark colour. An example would be a white foil on a black card.
You could be looking for something to provide your company logo or save the date cards with a grand finish. If so, opt for foil printing. Foils after all are available in a huge array of colours. Picking a bright shade can really make the item appear special.
No challenge is too much for our foiling services
At Foiling Services, we are not restricted when it comes to the shades of foil we use. This is a result of us working with top brands to get the best foils. We also use the most sophisticated machinery so you can expect us to meet the challenges of working with any pattern or shade.
If you would like to use our services, please let us know.