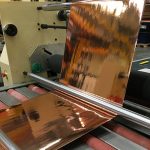 With foiling services, you can provide items with a bright metallic finish to help bring products to life. This could be to catch attention or to make a design look more luxurious. We believe that everyone should be aware of the advantages that come with adding foil to a surface. Because of this, we have gone into detail in this article to help you understand how our services can be useful to you.
Product enhancement
It is possible to bring your product to a new level in terms of aesthetics when you add foil. It allows you to make your surface more unique and separate it from the crowd so that it sticks out. After all, in today's market it is important to be memorable. First impressions are valuable and with a careful foil design, you can grab attention with ease.
Something for every budget
It is often said that the costs for foiling are prohibitive but this is not the case. It is much more affordable than most people realise. In addition, it is often possible to get something stunning no matter what you are looking to spend on it.
You can get a lot from a little foil
Something to remember is that by spending money on foiling you may sell more products. The reason for this is that foil will make the surface more eye-catching which results in people wanting to reach out to touch and feel it. Then, when they engage with it, they are more likely to want to purchase. Moreover, the presence of foil results in perceived quality and authenticity which leads to more interest.
Come to us for foiling services
Choosing to add a metallic touch to your item is strategic and you will see the pay off. If you want to try for yourself, we are the best partner for you. We offer a variety of possibilities in terms of products.
For years customers have enjoyed our outstanding service quality and we are always working hard to ensure we do the best job possible. So, get in touch with Foiling Services if you want to discuss your ideas or if you have queries about our services. We are confident once you try adding foil you will see why it is a great investment.