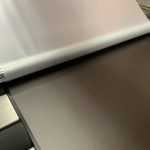 Laminating services are a great way to give items a high level of protection. At the same time, they can amplify the appearance of these objects. It is for these reasons why people rely on the work we do. For many years, we have been assisting clients by meeting all of their laminating needs. The work we do is world class and well worth the investment.
One of the most interesting uses of lamination is laminated glass. This is a type of safety glass that you can find in a number of industries.
Windshields
People use the laminated glass often on automobiles, aeroplanes and other vehicles. The film layer makes it tougher than standard glass. As a result, it is perfect for windshields. Thanks to the film, car windshield crack repair is a possibility because of its structural formation. Read on to find more reasons why the glass is the best choice here.
High strength
We will begin with the high strength. What you need to remember is laminated glass includes two panes of glass. There is also a polyvinyl butyral interlayer in between. Such thickness increases the strength. There is also more material for a projectile to get through. The robust plastic interlayer has decent rigidity and great tensile strength too. This all means that it would take a substantial amount of force to break through a laminated glass windshield.
Shatter resistance
The glass also has a resistance to shattering. With many normal windshields, they can crack under standard pressure. Laminated glass on the other hand can stay intact. The interlayer works by holding all the broken glass fragments together via compressional forces. In other words, it won't shatter. Therefore, it also reduces the risk of injuries and cuts. If you require the best laminating services, please give our team a call.
Sound proofing
The amount of sound proofing is worth a mention too. The glass functions as a sturdy barrier to exterior noise. The majority of sound waves moving through are absorbed by the two pane layers as well as the interlayer. The effective soundproofing capacity stops the driver from getting distracted by things outside the vehicle.
Rely on us for laminating services
At Foiling Services, we provide first rate assistance to individuals and businesses. This is a process that is very easy to get wrong. Because of this, we are especially careful when a client chooses us. Our goal is to ensure we provide high standards and don't risk damaging the items we laminate.
So, if you require our laminating services in the future, make sure you get in touch with us. We can provide advice about the films we offer and the materials we can add them to.