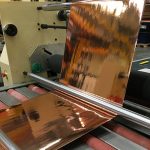 One of the most amazing things about using foil is there are so many different potential applications. This is possible because there are lots of options for foils and many ways to apply them. We can help clients to get the best results, calling on our extensive experience, high quality materials, and first rate equipment. So, we are more than capable of satisfying your needs.
Foiling is an embellishment procedure that the printing industry utilises on a regular basis. It is popular because it makes products and labels stand out more. In addition, you can use it to introduce security features. You have probably heard of the standard foiling process before. However, there are some you may not have heard of. You can find out more about a few of the most interesting ones below.
A more accurate procedure
Firstly, we have semi-rotary foiling. This is a useful option as it enables you to make more accurate adjustments to the pressure. You can do this due to the function and design of the unit. With the semi-rotary machine, there is no requirement for you to change the cylinder size to alter the print and format length.
The plates in these units are usually magnesium. They can heat up faster and also tend to provide rapid changeover times. If you compare to normal rotary foil units, they can end up being a lot more efficient. Let us know if you need top quality foiling services.
Flatbread
This is actually the oldest foiling method out there. In terms of changeover and function, it is the simplest too. You are able to combine these units with die-cutting or embossing. Alternatively, you can use the unit separately. This is not possible with every machine though.
One thing to note it there is a removable, heated bed, which holds your foil plate in position. Furthermore, the top and base plate come together to provide the pressure to transfer your foils. This leads to the greatest outcome thanks to the even distribution of pressure on foil and substrate, and contact time.
Something else flatbread foiling provides is inexpensive tooling. Just be aware that the spread speed can become limited by the way your unit functions. The speed also depends on your unit.
What about security foiling?
We briefly mentioned security earlier. Cold or hot foiling is an excellent tool to help enhance it. You can use it for printing or micro embossing. Moreover, there is a huge amount of specialist foils, like custom designs and holograms. You can print these in register to help impede or halt product counterfeiting.
We aim for the best results with our foiling services
We have worked hard to become the UK's most trusted name specialising in foils. Our team always aims to perform to the highest standards. This ensures the best results.
Some clients already have the ideal design in mind. Others prefer to use our experience to produce a design. Whatever it is you need, we will provide it to you.
So, feel free to contact Foiling Services if you need stellar solutions. We can offer all kinds of help and support you with any creative ideas.