Lamination is one of the most important modern manufacturing techniques. It allows the creation of lots of useful products, from flat pack furniture to menus and marketing materials. It also helps with the creation of sustainable building materials like CLT. It is a process we have a lot of experience with. In fact, we are confident we can offer some of the finest laminating services in the UK.
What type of vinyl to use?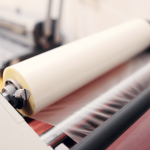 One of the things that make lamination so useful is the huge choice of vinyl films. There are options to suit any needs, from long lasting materials to use outdoors to thinner film for items people handle frequently. There are also plenty of choices in terms of pigment and you can even find options like woodgrain or stone.
Before you select a material you need to have a good idea of what the end product is. Most importantly you should be clear on the type of environment. You have to consider factors like the temperature, humidity, moisture level, dirt, and presence of chemicals, and even UV rays. You can then think about laminating services and choose a material.
Calendered PVC films
If you are creating a product for external use such as a shop sign or banner, you will probably want to use this kind of vinyl. It is made by squeezing sheets of PVC between hot rollers until it is the right thickness. Applying it is easy and it is suitable for use on a huge array of substances.
The big advantage of calendered vinyl is that it can last quite a long time in external settings. This could be five years or more depending on the exact conditions and quality of the film.
However, there is an important thing to keep in mind here. Calendered vinyl tends to have very little flexibility. As a result it is not a good option for uses where you need it to flex, stretch, and conform to different shapes.
Cast PVC film
If you are thinking longer term than five years, you will probably be better off investing in this type of vinyl. It is more expensive because it is hard to create. However, the lifespan can exceed ten years. It is the material of choice for things like vehicle wrapping because of the higher durability and resistance to environmental factors.
Self adhesive vinyl
When it comes to internal uses, often you will be fine with films that don't have a great deal of environmental resistance. This is because you won't expose the items to many of these harmful elements. Self adhesive films will usually be your go to choice here. They have the most flexibility and are also the most cost effective.
If you know the internal setting does have a tough environment, self adhesive vinyl may not be suitable. For example, it could be a commercial kitchen or a chemical manufacturing plant. In these settings with more heat, moisture and harmful substances, you will be better off with stronger, more durable films.
Talk to us about laminating services
At Foiling Services we have all the skills and experience we need to help clients choose films for different needs. It could be they require a vinyl that will be hardy and long lasting even in tough environments. Or they may want a thin film that has good flexibility and great visual value. In either case and any other, we can choose the right product.
So, if you want to see the benefits of high quality laminating services for yourself, please contact us. We can provide details, quotes, and deliver items quickly after we apply the right film.