People are using foiling services due to their ability to enhance the appearance of their items. The effect is quite substantial, especially if you work with experts such as us. We always strive to deliver results capable of exceeding the highest expectations. At the same time, we aim to give customers a cost effective solution because of our low prices.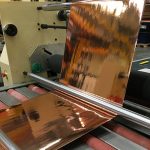 One thing you might not have thought of using foiling on is your books. Authors who use their money to create a more professional cover tend to receive more royalties on their work. Knowing this, the old "Don't judge a book by its cover" phrase does not seem to hold much weight in modern times. In today's competitive market, people often buy because a cover is appealing. As a result, they play a significant part in a book's sales. Let's discuss the reasons why you should have a high quality book cover.
The face
For one thing, a cover is the face of your book. It has to give people an idea of what is on offer within the pages. So it has to be relevant and interesting rather than just a plain colour.
Grabbing attention
A great cover can capture the audience's attention too. A catchy and professional look will always stand out. As a result, people will be far more likely to take a second look. In some cases they will buy purely because the look appeals to them so much.
Showing you care
A cover with a good enough design also informs the readers that this author is serious about what they are doing. On the other hand, a bad design is going to say to readers that the author does not care much about their work. People are probably not going to take any chances if they think that.
Building brand identity
With the right cover, you can also build your brand. A book cover's design creates the basis of an author identity or establishes branding. It is of the utmost importance when you have to sell some books.
Competing
Finally, you can remain ahead of the competition. In today's digital age, people like buying everything, books included, online. Your book cover is basically a thumbnail and factors into sales. When your book is competing with thousands of others online, you must have a cover that sells itself.
We elevate items to perfection with our foiling services
At Foiling Services, we perform all of our work using state of the art technology. The team can meet the challenge of whatever pattern and shade the client needs. Our people can take the product and elevate it to perfection. The opposite can happen if you don't do the work properly however. Therefore, we are extra careful not to make any mistakes.
So, please give us a call if you need to use our foiling services. We can advise you about different choices of foil and film, patterns, printing, and more.