Foiling services are useful for breathing new life into your items. There is more to this process than the simple shades of gold and silver however. We prove a huge range of foils to enhance our clients' items. Our business uses brushed, mirror, exterior, printed products, and more to get the job done. They are available in a myriad of colours and patterns.
Prior to starting your foiling, it is essential for you to clean your dies. This is especially true if they are copper or magnesium. To create dies using these substances, corrosive and strong acids get utilised during a chemical etching operation. It is also not uncommon for residues to remain on the die's exterior. Unclean surfaces can lead to reactions in your substrates and foil. This can influence the finish and its overall quality.
Revitalising dies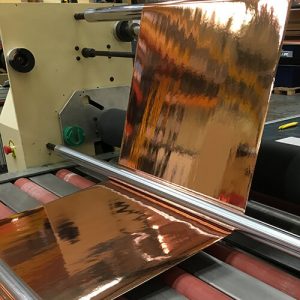 Cleaning is also vital when you need to revitalise unused or old dies that have deteriorated due to oxidation. Give them a decent clean to restore them to their original condition. If you do this of course, you will be able to save a lot of money and time. There won't be any need for you to make any new dies. In order to do the cleaning, you can use a glass fibre brush or a Garryflex Block.
A Garryflex Block is more appropriate for magnesium dies. The reason is that they offer a gentler clean. What's more, you can use them for cleaning oil and dirt in compact, hard to reach places in your machine. This will help to prevent sheet marking.
As for the glass fibre brush, this is a harsher one meant for more robust metals such as copper. It is not good for magnesium though. These brushes are going to remove smaller imperfections on your die surfaces too. What this will do is enhance the quality of your finishes. Let us know if you require the best foiling services in the UK.
Brass cleaning brushes
Another option would be to use a brass cleaning brush. These are soft brass bristle brushes chosen especially for safely deburring, polishing, and cleaning brass foiling dies. This is all without damaging them too. They are incredibly useful for fluted dies since these bristles are soft enough that they can bend and flex to get into multi-level areas of your dies. They won't cause harsh damage here either. You can also use them to safely clean electro static devices like circuit boards.
Start working with our team when you need foiling services
At Foiling Services, we are able to use our experience and talents to provide a world class standard of work. Whenever people do business with us, they feel at ease. This is because they know that we take great care of their items. Our team understands how each item reacts to the foils, and takes steps to ensure things go according to plan.
So, if you would like to use our foiling services, you are welcome to contact us. We can help you to be creative with your projects.