We have been providing laminating services to clients in the UK for many years now. Our team have built a huge wealth of knowledge in this time. They know how delicate this process is and how careful they must be with your items. Having so much care and attention to detail, you can depend on us when you need help with any kind of packaging and many other products.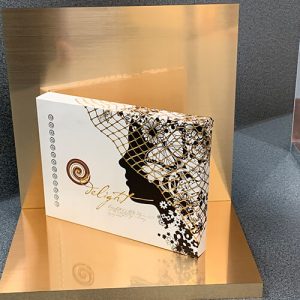 For designers of packaging, each new project comes with its own obstacles. These challenges often lead to design innovations. Materials play a key part here too. Even those ones that are familiar to you come with inherent characteristics. These tend to get under-utilised or under-recognised. All you need is some thoughtful selection and careful consideration though. With them, you will be able to discover some excellent options and design innovations.
What we are going to do here is look at three forms of lamination. They can provide you with new possibilities for your products, so the laminating services are worth considering.
The holographic foils
We will begin with holographic laminates. Using these is a wonderful way to augment normal, plain packaging. They are quite functional too. They are typically made with a PET film. You are also able to obtain a holographic look using cold foil or hot stamping.
You don't need to cover the whole packaging with your holographic effects though. It is possible to make more subtle additions if you wish to.
With the utility, there are numerous functional uses for these kinds of foils too. For instance, transparent holographic foil can give additional layers of resistance. This will make the product tamper-free. Also, unique holographic patterns are much harder to fake.
Aluminium foil laminates
These foils can do many wonderful things. Knowing this, it should not be surprising that aluminium foil laminates are extensively used in many pieces of packaging. This includes chemical, food, and cosmetic items. Foil laminates are compliant for direct food contact. Furthermore, they function as efficient moisture and heat barriers.
Another fact is that the foils possess some of the greatest high dead fold properties. What this means is that the laminates won't lose their form or unfold. Let us know if you require our laminating services.
A brighter laminate
Lastly, we will talk about transfer metallised laminates. These are a way for you to obtain a bright, near reflective sheen on your packaging.
The process works by bonding a thin metallic foil layer to the base layer. This is done with a water-based, sustainable adhesive. Additionally, you can remove the polyester film for responsible recycling. You will have a fully recyclable laminate. There are several styles to choose from here, like rainbow and silver.
Creative laminating services for your items
At Foiling Services, we make your products look better than ever. There are lots of options, both in terms of foils and how we can apply them. Plus, we ensure our prices are competitive, even if you want something complex and creative.
So, if you want to try our laminating services to take your packaging to a new level, please don't hesitate to contact us. We can give you the best support with any project, including new launches and more.