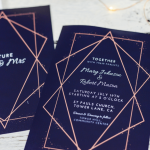 Adding foil to wedding invitations has been a popular choice for a while now. It is almost always the case that the best looking invites have metallic elements in the design. The idea is to help make them even more impressive and eye-catching. Below, we will go over some of the advantages of using foiling services to provide your invitations with the perfect final touch.
Plenty of choices
Of course, you will have to choose the design for your invites and not all foils will be a great match. Luckily, there are plenty of colours available and types of foil, including gold, silver, and holographic options. These are perfect for various products, meaning you can find something that compliments your items and the theme of your wedding.
Want to foil other things? Don't worry
If you have something else other than an invite that you want to foil, we can help! It also makes a superb addition to all kinds of signs, save the dates, place cards, menus, and so much more. So, you will be able to coordinate different parts of the wedding by having foil throughout.
More affordable than you might think
It was once the case that printing out invitations for your wedding and adding foil to the design was quite costly. However, thanks to modern machinery and updates to the process, this is no longer the case. It is possible to get incredibly accurate results while remaining within your budget.
Explore our foiling services
We are a renowned company with the skills to enhance all kinds of materials. We can add functional and decorative hot transfer foils to various items. In addition, we have experience with self-adhesive tapes and PVC films.
Take a look through our website to see the various product options we offer for our foiling services. We also offer lamination if this is something that you are thinking about. Whatever you need, reach out and we would love to talk with you.