People seek to use foiling services for the top notch results they bring. They also prefer to work with a company that understands the finer details of this practice. Our business has spent its time providing clients with results that are nothing short of world class. As a result, we are the perfect partner for foil and laminate solutions.
There are many reasons to use cards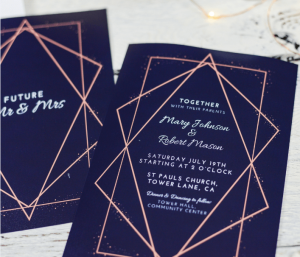 Receiving a card in the post tends to be a fun experience. Electronic invitations are increasing in popularity however. This can make them seem impersonal at times. Because of this, it is unsurprising that many go in the junk folder. There are plenty of reasons to choose physical cards instead. They can make a better impact, something which is especially good for invitations and special offers.
No matter the purpose, there is something print like this should always be. That would be memorable. It is here where digital foiling comes into play. Read on to discover how you can use it in your print.
Picking foiling for the paper
To start off, you need to choose foil for your paper. Think long and hard about the variety of paper that is going to work the most. Digital foiling differs from classic because you don't use heated plates. Classic foiling leaves a raised embossing behind. The digital variant however leaves the same effect behind but lacks the indent. This is ideal for luxurious, sleek designs.
Since you don't use heat, there are more paper options with digital. Examples include uncoated and silk paper stocks. If you require first rate foiling services, don't hesitate to contact us.
You can also use numerous colours to match your branding. Remember that foil is meant to be an accent. As a result, you should think about the colours that pop in your design the best. For instance, you could go for a white wedding invitation. Here, copper and silver can really accentuate the complete look.
Be careful not to go overboard though. The last thing you want is to overwhelm your design. Consider picking a foil colour to match sections of your designs. With the right colour, your invitations can have an unforgettable and unique appearance.
The foiling location
When producing designs, it is essential to think about where your foil is going to end up. Accents make or break designs. Some individuals prefer to put the foil on the lettering. Others put it on the graphical elements. You also have the option to combine both. It is all down to you.
Take advantage of our foiling services
At Foiling Services, we perform our work using the latest techniques and technology. This allows us to work outside the normal limits. There is no requirement for us to stick to standard gold and silver shades.
If you are currently in need of our services, please get in touch. We can help you to explore design ideas and choose the right option for you.