Our goal at Foiling Services is to deliver the very best results every time. To do this we choose the highest quality films and foils and only use reliable machinery. As a result we can say we offer some of the best foil and laminating services in the UK.
Laminates are everywhere in modern society. You can find them on the physical marketing materials you handle, on packaging, and more. In fact, you likely have some examples in your own home. There are lots of popular products that have a laminate layer to protect them and enhance the aesthetics.
The kitchen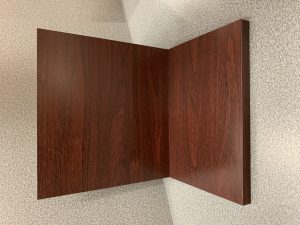 One place where you may definitely have some laminates is the kitchen. You may have laminate flooring because it is cost effective, durable, and available with a huge array of colours and patterns. You may even have cupboards that are MDF with a laminate finish. They can be a more cost effective option than hardwood. In addition the protective layer can improve the waterproofing and make them easier to clean.
Another place in the kitchen you may find laminate is on the actual worktops. Again the lamination is a good way to give the surface more protection against wear and moisture. The laminates also mean it is possible to choose worktops that look like real materials like marble but with a fraction of the actual weight and price. In addition there is more choice for other types of pattern and colour. That means you can be really creative with your kitchen designs.
If you are thinking about a kitchen redesign you may want to consider products with laminates. They are a really good option that can be long lasting but cost effective.
Talk to us about laminating services
At Foiling Services we have a lot of experience with lamination. In fact we are one of the leaders in our field. We can cater for various needs, offering solutions for marketing materials and many other products. We even have external foils and films that are safe to use outside.
Clients from an array of industries can come to us for first rate laminating services. We will use the perfect products and deliver excellent results. If you want to talk to us about a project please get in touch. We are happy to help and can even offer advice about which products and type of lamination would be best for you.