When you choose a piece of furniture what is your main goal? For most people the aim will be to select something that looks great whilst also suiting their needs in terms of the function. Not many people think about things like wearing and what will happen after a few years of use. Luckily, there are some simple solutions here. One is to use decorative foils and laminates. As a leading provider of foiling services, we know just how great these materials can be.
What are they?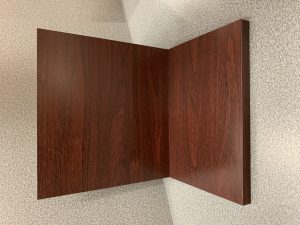 The products are like a type of laminate with a side covered in adhesive. You simply peel off the back and stick it in place. They are great for various furnishings, from old cabinets or wardrobes to chairs. A lot of people use them in kitchens to dress up their cabinetry.
There are lots of options with these products. For example there are some that look exactly like woodgrain or materials like marble. On the other hand there are options with various patterns. Some can even include foil patterning to create an eye catching design. They can really enhance pieces of furniture.
You can use the products to hide all kinds of wear. For example they can cover up scratches in wood, stains, and more. All you need to do is take care and make sure you add the laminate smoothly so there are no bubbles or creases.
At the same time they are hiding the damage, the products can also provide extra protection for your furnishings. They tend to be durable films that will resist things like scratching. They are also waterproof so you don't need to worry about spills. If you do spill, it should be a simple case to wipe the surface. It should not leave a stain.
Talk to us if you want foiling services
We are very proud to be one the most renowned companies in our industry in the UK. In fact you can tell what our speciality is by looking at our name. We can provide solutions for all kinds of needs, including foils for a huge array of different items. This can include everything from packaging to doors and furnishings.
So, if you want to find out more about what foiling services can help you to achieve, please contact us. We can deliver decorative materials you will love.