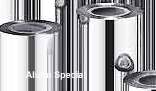 When you need foiling services, it is essential that you work with someone with experience. Our team has been working in the industry for more than a decade. The expertise we have makes us a market leader and means we can offer some of the most efficient solutions you can use today. In addition, the results we can produce are nothing short of world class.
Employing aluminium foil labels for your tags comes with a myriad of advantages. There is the fact that they are wonderful to look at because of the metallic aesthetic. In addition, there is the versatility due to the fact that aluminium is available in various thicknesses. This allows you to use it for all kinds of projects. However, you should know that anything past a thickness of .2mm is technically no longer a foil.
The benefits
Aluminium foil labels provide a number of benefits and features that businesses love. Aside from the versatility, this type of label can endure a myriad of temperatures. That includes freezing cold and blazing hot conditions. What it means is the tags are perfect for uses that expose them to these temperature variations. Examples of the specific applications here include tags and labels for machinery that create or get exposed to cold and hot environments. Contact us if you desire the finest foiling services on the market.
Cost effective
Aluminium foil labels are interesting for how cost effective they can be. Many people don't think this is the case because there are alternatives that are cheaper to purchase. However, you can view the extra cost as a useful investment. It can actually pay off by attracting more attention from prospective buyers. As a result, what you can actually have is a cost effective product that can deliver a good ROI.
Simple to clean items
There is something else worth remembering here as well; the tags will be simple to clean so you can keep them in top condition. This is due to the fact that the aluminium isn't porous. When you expose it to oil, water, grease, and other liquids, it remains clean since it won't absorb any of them. All you need to do is wipe them occasionally. Aluminium is corrosion resistant too, meaning moisture won't affect it at all. This can make it a great option for any dirty environments.
We can help everyone with our dynamic foiling services
At Foiling Services, we are able to assist clients in many different situations. For instance, some will already have the ideal product design in mind. Others however will want our input when they create a foiling style. Whatever the case, we will be there to meet your specifications. Plus, we can use our knowledge and creativity to add value for you.
So, if you desire the highest quality foiling services available in the UK, please give us a call. We know we can handle most requests and have the skills to add foils to lots of different products.