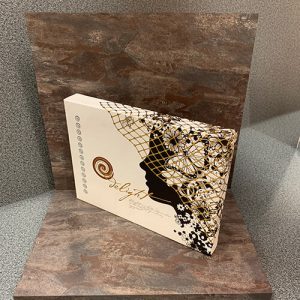 At Foiling Services we use a range of different techniques to add decorative foils to a variety of items. For example we can use foil blocking to add it to business cards, packaging, marketing materials and more. It will produce an incredibly stylish finish, making your items stand out.
Our experience with foil blocking means we know how to be successful with it. The following are some of our top tips to help you do just that.
Tolerance
One of the most important things to keep in mind is that the heat and pressure means the edge of the foil print can move. This could be as much as by plus or minus 1mm. You should be prepared for this, especially if you are planning to add the foil so it is close to the edge of an item.
Aligning fine detail
Another thing you should consider is how difficult it is to add foil to fine details. If the line is under 1mm in width it can be very tricky to foil it effectively. It can also be hard to get a good finish if you are trying to align the finest details with a pre-printed area. Instead, you should use it as a design element in its own right.
Going over the edge
Some people will be looking to add foil to a large number of products at once then want to cut them to size afterwards. This is possible but you need to be careful about having the foil over the edge of where you will cut. If you do this it can chip during cutting and it will likely look messy.
Be creative
The best tip we have about foiling services is to be creative. There are lots of options to choose from, including many colours of foil. You can choose various patterns, fonts and other things. We can give you a lot of advice too if you are not sure about whether what you have in mind will work in foil.
Talk to us today about foiling services
If you want to learn more about just how good decorative foiling can be, get in touch. We have lots of happy customers who have been very successful with different products.