We are a business with a long history in the world of laminating services. We can add laminate to a wide variety of materials. This includes various paper stocks, aluminium, MDF, ASA, and plywood to name a few. In addition, we work alongside expert manufacturers like Novacel and Renolit to access the best films and foils.
Think about the paper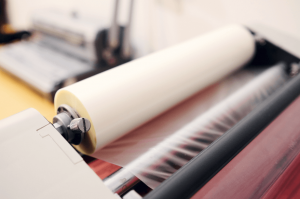 The type of paper is something that does matter when you are laminating. This is not a thing that most people are going to think about too much. However, let us ask you to cast back your mind to the last time you ate at a restaurant. Think about your initial impression when first sitting down and looking at the menu. It is likely that your experience was a positive one. This would partly be down to the attention to detail of the business. A big part of it would have been the quality of the menu, including the paper type.
The menu could have been a home-printed job. It might not have been too impressive if it was. On the other hand, it may have been a wonderful professional piece. This is one that matches the quality of the food and service. Such an impression leads to people looking forward to their meals even more.
At this point, you are probably thinking about the paper type you should be using and when to use it. Naturally, this depends on what you are planning to print and for what purpose.
Flyers and leaflets
Here it is a good idea to use a 200 gsm silk paper. It feels thicker than normal stock and comes with a minor silky feel. The paper allows for a punchy print, making it perfect for promotional leaflets. Not to mention, it is cost efficient, so it is ideal for mass print. Speak to our team if you need laminating services you can count on.
Menus
A thicker type of paper is preferable here. It will stop the edges from curling and prevent wear-and-tear. The recommendation is a minimum of 300 gsm silk board using soft touch lamination. Moreover, this is going to be more scratch resistant compared to other types of laminate. Yet, it will still possess that excellent soft-touch feel.
Brochures, prospectuses, and catalogues
All three could do with a thicker cover along with thinner inserts. Your services or products might be mid to higher value. If so, you may want to go for thick with both. Brochures will feel higher quality to readers if you do. They will become a superior reflection of the higher-end service or product you are promoting.
Everyone receives the best laminating services with us
At Foiling Services, we offer individuals and UK businesses the finest laminate and foil. Using our skills, we can give items more protection and a high quality appearance. Not to mention, we work to understand the characteristics of each item to ensure that we don't ruin them.
If you require our laminating services, even if it is a tricky item, contact us today. We can look at all the options and then choose the right one for you.