People have sought top quality foiling services for some time now. They want to use them because of the great benefits they provide, including how much visual value they can add to an item. Our professional team helps them to achieve their goals here. We use the best equipment and high quality foils to do so.
Foil fusing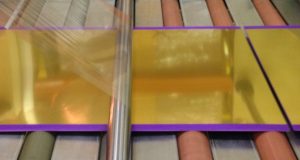 This is one of the most enjoyable ways of transforming plain print pages into quality prints. This is without needing to use special foiling gear. All you need here is a few simple things. There is a dry toner print and a protective pouch carrier. In addition, you will require a pouch laminator and a foil roll with your choice of colour.
However, you will also need to be aware of troubleshooting. As fun as foiling is, it is possible to come across problems along the way. With our help, you should be able to deal with these issues.
Foil not transferring?
If this is happening, you might want to look in several places. The following are all easy enough to fix. Your ink could be a dry toner. If so, you must remember that oil won't stick to anything that is not a dry toner. Should you be using an incompatible ink, it is not going to transfer. Examine your printer and its cartridge to see if it uses the dry toner.
A smooth stock
Something else you will have to look into is whether the paper is a smooth stock. Remember that foil is not going to transfer onto any textured paper stocks. It must be smooth to properly grab the foil. Texture will prevent foiling because it won't allow solid foil in the creases. Come to us if you need first rate foiling services.
A hot enough laminator
The minimum heat recommendation for laminators is 300ºF. However, in many cases hotter is better. Certain paper stocks are going to require this extra heat to properly transfer. It is the same for some foils like transparent and holographic.
Your foil laminator could already be at its prime heat level. If so, you can attempt to slow the speed down.
If you are lacking adjustable heat or speed, you can run it through an additional time. Bear in mind that you can only heat the foil a couple of times before it becomes useless. Therefore, you might want to use an entirely new piece. Once it peels up, the foil may not function. What we are saying is don't peel the foil and roll it up once more.
First class foiling services
We are experts at helping clients to obtain the benefits of adding beautiful foil to different products. Our team aims to reach world class standards in their work. No matter the pattern or shade, we can meet the challenges of any project.
So, if you require our foiling services, please get in touch. We would be happy to help you choose the right options for your project.