Using foiling services is something that allows you to foil your items to the highest standard. You will get the very best results here when you work with a market leader like us. Our team has been part of this industry for many years. As a result, we have the experience to satisfy your every need. We have excellent resources and work to elevate every product we apply foil to.
Going for sophistication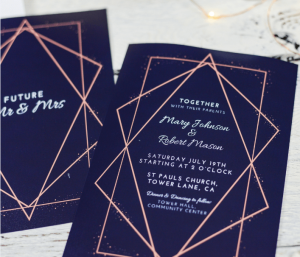 Eye catching sophistication may be what you are aiming for. If so, then introducing shiny metallic gold into your design is the way to go. Anyone can choose to take this route. Thankfully, there is more than a single commercial printing approach to give the product such embellishments. Foiling is not a sole option anymore. Something that is taking the industry by storm is a digital embellish method called sleeking.
Are you wondering about this innovative technology yourself? If so, we are going to give you a closer look at the differences between foil stamping and sleeking. We will discuss both their overall effects and creation methods.
The traditional method
We will start with traditional foil stamping. Gold foil printing, also called hot foil stamping, is a process that has existed for centuries. Classic blocking uses metal die blocks. They apply foil to the paper stock directly. Design elements employing this strategy shall pop up slightly debased or textured.
Being a classic tried-and-true approach, hot foiling is able to preserve its regular perks. This includes the precision of finer details. The results generate crisp prints that come in all sorts of colours.
Saying this, hot stamping comes with its limitations. These include production times and the overall cost. At the same time, the cost can be a great investment and experts can offer low lead times. Let our team know if you are in need of the greatest foiling services available in the UK.
What about sleeking?
As for foil sleeking, it is an alternative on-demand finishing technique. You can call this procedure state of the art because it makes use of modern printing technology. It does so to its limit for first rate innovation.
Rather than using regular metal dies and blocks, sleeking is performed via digital means. It can produce wonderful special effects while sticking to a cost effective budget.
Sleeking technology manufactures the metallic or matte impressions in the full coverage of a page. Alternatively, it does it in spot locations. Because there is no restriction to design, personalisation is a major benefit. Without any luxuriant set ups, the possibilities here are basically endless. However, it does not have the same amount of history of success as foil stamping.
We will help you however we can with foiling services
At Foiling Services, we aim to deliver a world class standard of work. Some clients already have the perfect design in mind when they come to us. Others prefer to use our experience to produce a foiling style. Despite offering first class services, we are able to make our work affordable to each client.
So, if you would like to work with us, feel free to get in touch.