We work to provide our customers' items with the incredible appearance they deserve. It is something we are able to do with the help of our talents in foiling services. Our team has been specialising in this for many years. Consequently, we can supply a world class finish that you won't see anywhere else.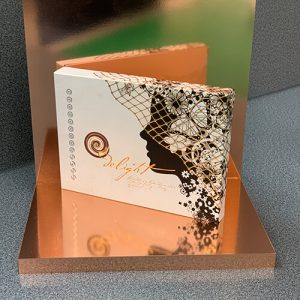 In the world of print techniques, foil stamping remains a favourite with the design community. There is a good reason for this too; it is an incredibly reflective process. It imparts dimension, texture, and vivid colour to each project.
As with any production procedure, you must understand how and when to use it. This is going to make all the difference with your final results. Right now, there are three widely available foil stamping methods. They are digital, cold foil, and hot foil. What we are going to do is examine all of them to help you decide which is best for your circumstances.
The hot method
Whenever the industry talks about foil stamping, normally they mean this specific practice. It uses a metal die or plate that has a raised impression of your design. This will be foil stamped onto the substrate.
As for the plate, it encounters the foil and moves a thin layer of the film to the paper's exterior. When the plate is heated, the foil sticks to the surface in the locations of the desired imprint. Even though this is a long and costly process, you have multiple options for foil colours here. Speak to us if you require top tier foiling services.
Cold foil stamping
This is an inline operation where you print UV-curable adhesive onto your paper. You accomplish this using the classic offset litho approach. It is similar to an inline varnish. Then, you press the foil onto your paper. It sticks to the area while your linter gets stripped away. The foil here cures by passing it under a UV light on your press. You can then overprint it. It's a good option for large runs.
The digital approach
Finally, we come to digital foil stamping. This phrase refers to the operation where your design prints from the file to the substrate directly. It works just like digital printing. You build the desired foiled area as an individual colour in the file. You then print it by electrically charging black toner that works as the foil's receptor. Finally, a thin foil layer gets laminated onto your paper and fuses to that area that's printed with black toner. For quick turnaround times, this is the ideal solution.
We provide excellent, affordable results with our foiling services
At Foiling Services, we always want to give our clients the best possible results. At the same time though, we want to ensure that our assistance is affordable to everyone. Therefore, our services come with a competitive price tag.
So, if you would like to use the greatest and most affordable services out there, please call our team.