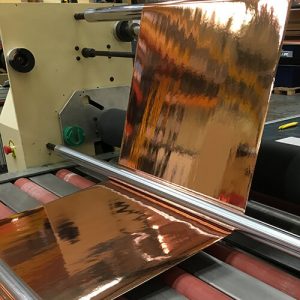 Foiling services are incredibly popular due to their ability to enhance the appearance of an item. Our team has been supplying assistance to businesses all over the UK for a long time. Thanks to our experience and talent, clients always walk away happy. What's more, our competitive prices mean they will be getting wonderful value for money.
In this post we would like to talk about toner foiling. You may not have heard of the procedure before. However, there are many curious people out there who ask questions about the topic and similar ones. We are going to discuss it in more detail here to help you get a better understanding of it.
What is it?
We will start by revealing exactly what toner foiling is. This is an operation that enables us to stick coloured or metallic foils to parts of a laser printed page. The results from it can lead to great things with multicolour foils. Your effects can be especially striking.
People tend to use this type of foiling to highlight designs and text on wedding invitations and stationery. But it has far more uses than that. If you need the greatest foiling services in the UK, please call us.
How does it work?
It is a simple process, but you do need a few things for it. These include toner foils, suitable media, and an appropriate laser printer. You will also require a hot foiling apparatus or something similar like a laminator.
The procedure includes the user printing a design out onto their chosen media. Afterwards, you pass the page with foil over the necessary spots through the laminator/hot foiler. The act of introducing heat to it leads to the toner re-melting and turning tacky. In turn, this makes the foil adhere to it. As you peel away the foil sheet, those spots covered in toner shall now possess a foil finish.
Increasing popularity due to hybrid designs
Recently, toner foiling has experienced surges in popularity in craft circles. This is despite the fact that it has its limitations.
Something you can do here is produce hybrid designs that hold foil and colour images. This is possible by using a mixture of laser and inkjet machines. By utilising paper that is appropriate for both, you can start by printing a colour design through the inkjet mechanism. Following this, you can run your design through a laser machine in order to add to the foil design pattern. After foiling the document, you will have a hybrid design containing the best parts of both.
We strive for excellence with our foiling services
At Foiling Services, we always aim to meet the highest expectations. Since we use the most sophisticated equipment, we are not restricted with the foils we can use. Expect us to meet the challenge of any available pattern or shape.
With our help, your product shall be able to meet its full potential. So, please let us know if you would like to use our services.