Established in 2005, our business set out to provide the very best foiling services in the UK. However, there is another area that we excel in too. This would be lamination services. Clients in various industries are able to take advantage of our work.
When you laminate an item, you can enhance its appearance and give it more protection. The item in question might be a photo, poster, or display object. Naturally, the success rate here comes down to the professionalism and skill of the laminator. When you work with us, you don't have to worry about the results. We always go above and beyond to satisfy each customer.
The delicate nature of lamination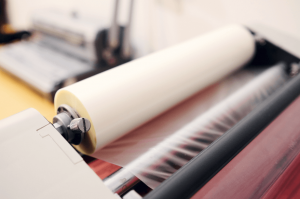 We have spent years working our way up to becoming the foremost authority on laminating in the UK. Because of how the process works, it is not hard to get things wrong. Anyone who has tried to laminate an object will tell you the same thing. In addition, a large number of items that people want laminating are those they cannot replace. Examples include posters and family photographs. Therefore, there is really no room to make mistakes. So, if you require our expert lamination services, please let us know.
This is a heat sensitive procedure. As a result, there is the possibility of items not reacting particularly well to the coating. Luckily, clients have our knowledge and experience to draw upon. There can be no greater resources here.
The moment a client supplies us with something to laminate, we don't start and say we are not to blame if something does not work. Instead, we begin by looking at the properties and qualities of the object. This way, we reduce the chances of items coming to harm. In the event your item is not suitable for lamination services, we will inform you of other solutions.
Have you ever laminated composite doors?
One object you might not have thought about laminating is the composite door. Composites are layers of materials glued together to create a really strong final material. The doors tend to have an exterior laminate skin. This enhances the aesthetic appeal, abrasion resistance, and waterproofing. Since you can use different laminates on these doors, there are few limits when it comes to customisation.
Due to the size of these doors, you need a considerable amount of skill to laminate them. It is even more challenging for those products that come with detailing. You need to add the laminate and smooth things down with care to prevent flaws like air bubbles. Not to mention, you must align the laminate properly. We have the skills to succeed here.
Work with our team for expert lamination services
Our lamination solutions can give you the protection and aesthetic improvements you are looking for. When all is said and done, you will have an item that is attractive and distinguished.
For professional lamination services like no other, get in touch with Foiling Services today. We can give you info, a quote, and recommendations.