Laminating Services
At Foiling Services, we specialise in laminating services as well as decorative coatings. We offer a personal yet professional approach to product design and finishing. As a result, with our help, you can make your products stand out from the crowd or provide extra protection. We can provide coating solutions for a huge range of base materials. We do this for everything from metals to timber, plastics to paper or card.
With us, your final product will get the additional protection or decoration it needs. This will help it to function as you intend it to. Foiling Services is the most accomplished specialist in our industry in the UK. We have provided solutions for clients in a huge number of industries.
Maintaining customer's high expectations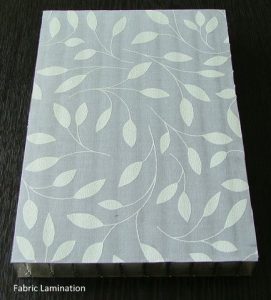 Our professionalism and stunning final products are both renowned. In addition, they are both things our happy customers regularly comment on. We are versatile enough to satisfy needs on any scale. We are able to deliver the same high standards regardless of the job size.
The big benefit of working with us is we have the facilities and experience to offer unbeatable quality. We do this whilst also maintaining our independence and personal approach.
You can choose from a huge number of different coatings. This gives you the luxury of selecting the one that is best for your needs. Laminating services include various colours, timber, stone or metallic effects. This is in addition to a brushed effect as well as holographic foils.
Leading services you can trust
If you're considering the design options that are on offer please let us provide a consultation. This will help ensure you make the right choice. Our friendly team consists of talented designers and highly trained technicians. This is in addition to our knowledgeable specialists. This should help give you a full idea of what goes into making your product.
At Foiling Services we keep all aspects of the coating process on site. We do this because it means we can monitor quality and keep a close handle on costs. Great steps have been taken to ensure that our processes are efficient and as low cost as possible. You won't find better priced decorative or protective laminating services than the one we offer.
If you have any queries about our capabilities or would like to discuss your product ideas please get in touch. We recommend calling us at 01684 575655. But, you can also email admin@foilingservices.co.uk or use the chat tool on our website to send us a message. We guarantee we will impress you with what we can offer.